Grammys 2016: Taylor Swift becomes first woman to win album of the year twice
Pop star Taylor Swift has become the first woman to win album of the year twice at the Grammy Awards – and appeared to use the stage to respond to rapper Kanye West's claims that he made her famous.
A song on West's new album The Life of Pablo includes lyrics that claim he propelled Swift into the limelight after he upstaged her win at the MTV Video Music Awards in 2009 to claim Beyonce was the rightful winner of her prize.
After her record 1989 was named album of the year at the 58th Grammy Awards in Los Angeles, Swift took to the stage with her many collaborators and said: "As the first woman to win album of the year at the Grammys twice, I want to say to all the young women out there: there are going to be people along the way who will try to undercut your success or take credit for your accomplishments or your fame, but if you just focus on the work and don't let those people sidetrack you, some day when you get where you're going you will look around and know it was you and the people who love you who put you there, and that will be the greatest feeling in the world."
Swift also won Grammys for best pop vocal album for 1989 and best music video for "Bad Blood", her collaboration with rapper Kendrick Lamar.
Swift, who scored seven nominations, opened the ceremony with the first TV performance of "Out Of The Woods" from 1989.
The singer, 26, sported a new blonde bob while wearing a skintight black beaded body suit with sheer panels down the sides.
Lamar, who led the nominations with 11 nods, won five Grammys, including best rap album for To Pimp A Butterfly.
He scored four awards in the pre-broadcast ceremony, including the best music video Grammy for "Bad Blood".
Collecting his gramophone trophy from fellow Compton rapper Ice Cube and his son O'Shea Jackson Jr, Lamar said: "This is for hip hop, Ice Cube, this is for Snoop Dogg, this is for Nas, we will live forever, believe that."
British singer Ed Sheeran won his first Grammy at the ceremony.
Stevie Wonder read from a Braille card as he announced Sheeran's "Thinking Out Loud" as song of the year.
Sheeran's friend Swift, who was also nominated in the category for her hit "Blank Space", leapt to her feet and cheered as his name was announced before he ran over to embrace her.
Collecting his trophy, Sheeran thanked his parents, saying: "They have flown over the past four years to come to the Grammys, and every time they go: 'Maybe next year!"'
Before announcing the winner, Wonder opened the card and showed it to the camera, making a jeering sound and saying: "You can't read this because you can't read Braille. I just want to say before saying the winner: we need to make everything accessible to every person with a disability."
Beyonce presented record of the year, the final award of the night, to Bruno Mars and Mark Ronson for "Uptown Funk".
Mars seemed to predict his win when he shouted "let's go Beyonce, let's do it," as she paused before announcing the victor.
Collecting the trophy, Ronson paid tribute to funk artists including George Clinton, James Brown, Prince and Earth, Wind & Fire, while Mars said: "We wouldn't be up here if it wasn't for the people dancing to this song."
"All About That Bass" singer Meghan Trainor burst into tears and embraced her father as she was announced as best new artist by last year's winner Sam Smith.
Accepting the award, she said: "I'm a mess, I have to go cry."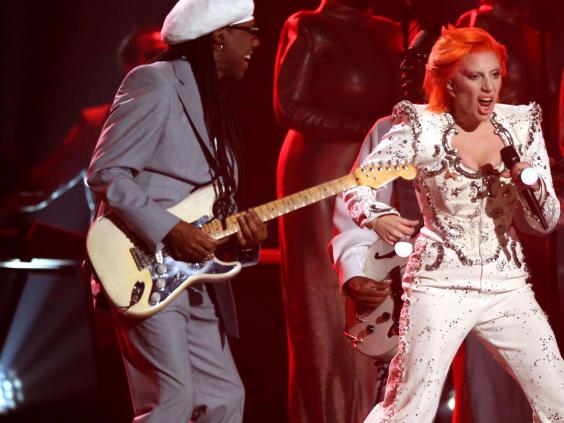 Credit: Independent.co.uk/ DailyMail